Alternative Stroke Treatment in Edmonton
We offer Edmonton Functional Stroke Therapy


Contact us for a complementary Stroke consult

Call 780 757 8378 and book your first visit

Let's see how we can help you
TruMed offers Edmonton Hyperbaric Oxygen Treatment & IV Therapy
Summarized evidence for Alternative management of chronic Stroke
This review page is for informational purposes only.
Stroke Background:
Following an ischemic Stroke, irreversible neural injury occurs within minutes as brain cells rely exclusively on oxygen based metabolism.
Of particular interest are the regions surrounding the focal site of injury because of the potential to salvage these areas still exists.
Decreased oxygenation to the damaged area prevents tissue repair and the generation of new synaptic connections.
Stroke survivors undergo various degrees of spontaneous restoration of function during the first few weeks after the event, but generally, this recovery phase levels off within a few months.
Hyperbaric Oxygen
As part of its exclusive oxygen dependance, the brain is utilizing almost all the oxygen delivered to it at any given moment.
Hyperbaric oxygenation can supply the substrate needed for brain repair as repair after brain injury requires much additional energy.
Hyperbaric chambers our Edmonton office are able to provide the moderate pressures needed for facilitating nervous system repair.
IV Therapy
With IV Therapy we infuse nutrients (such as B Vitamins and Magnesium) and other natural substances (such as NAD+ & Glutathione) directly into the blood stream.
With regards to Stroke, the rationale of IV Therapy is to facilitate entry of nutrients used in brain repair more readily into the nervous system.
Our office has administered thousands of Vitamin drips and use of IV Therapy for Brain Injury and Stroke can sometimes result in rapid benefits.
Hyperbaric Mechanisms - Stroke
Increased tissue oxygenation
Breathing pure oxygen under Hyperbaric conditions can dramatically improve brain oxygenation and can trigger reactivation of quiescent neurons around the area of Stroke.
Reduced inflammation
Anti-inflammatory mechanisms relevant to Stroke treatment include decreasing TNF-α and IL-6 and increased expression of NRF-2 (involved in anti-oxidant defenses).
Decreased apoptosis
Increased expression of anti-apoptotic proteins (Bcl-2 and Bcl-xl) and suppression of the mitochondrial mediated apoptotic pathway to preserve brain neurons.
Progenitor Cell Release
Hyperbaric treatment has been shown to mobilize Progenitor cells from the bone marrow into the blood and may induce neural Progenitor cell proliferation in the brain.
Neuro/Angiogenesis
Hyperbaric oxygenation can promote axonal sprouting and synapse remodeling as well as HBOT triggers angiogenesis - the growth of additional blood vessels.
Acute Stroke management:
All patients with acute ischemic Stroke should be treated on an emergency basis within 1 h of occurrence.
Unfortunately studies using Hyperbaric Therapy in acute Stroke have yielded conflicting results.
We do not offer acute Stroke treatment at our Edmonton clinic.
Chronic Stroke management:
Many physicians are not interested in chronic Stroke patients as the neurological deficits are considered somewhat fixed due to "irreversible" brain damage.
Our Edmonton clinic works with numerous options with promising data in the treatment of chronic Stroke.
There is a growing body of evidence suggesting that Hyperbaric Oxygen Therapy may play a pivotal role in stimulating neuroplasticity after a Stroke in its chronic phase.
Clinical Data
At our clinic in Edmonton we offer modern alternative management options.
Our office uses evidence informed therapies for our Stroke management protocols.
The following section will discuss human data regarding the use of Hyperbaric treatment for chronic Stroke.
Select Review of Studies:



The total number of cases reported using Hyperbaric Therapy in Stroke in the literature is well over 1000 with an extremely encouraging rate of improvement of 40–100 %.
This improvement is much higher than the expected natural rate of recovery (particularly because many cases were chronic with stable, non improving neurological deficits).
This wealth of data is why our Naturopathic Doctors incorporate Hyperbaric Oxygen as a foundation for the treatment protocols for Stroke at our Edmonton clinic.
Newer Stroke Treatment Data:
A randomized, controlled trial from Israel with 74 patients who suffered a Stroke between 6 and 36 months prior - 40, 90 minute sessions at a pressure of 2 ATA.
"We found that the neurological functions and life quality of all patients in both groups were significantly improved following the HBOT sessions."
This study suggests that the neuroplasticity of the central nervous system can still be activated long after damage onset in chronic Stroke patients.

We commonly use 40 treatments for Stroke at our Edmonton clinic - using 90 minute treatment is more than what's historically suggested for the treatment of Brain Injury and Stroke.
Where 27 patients who suffered a Stroke between 3 and 48 months prior - 40, 90 minute sessions at a pressure of 2 ATA with or without exercise & mental imagery.
Improvements in Box and Block Test, Wolf Motor Function Test, and Stroke Impact Scale.
The control group showed improvement only in the Wolf Motor Function Test.
An excellent recent study focused on chronic Stroke treatment, using a multi-modal approach which we encourage in our Edmonton Stroke patients.

Where six patients who suffered a Stroke between 12 and 48 months prior - 40, 60 minute sessions, at a pressure of 2.0 ATA.
Significant improvements with cognition, gait velocity, upper limb mobility, sleep, and overall recovery.
A recent study demonstrating significant efficacy of Hyperbaric Treatment in Stroke with 60 minute sessions. Our Edmonton clinic often uses 60 to 75 minute treatment sessions for our Stroke patients.
Rosario 2018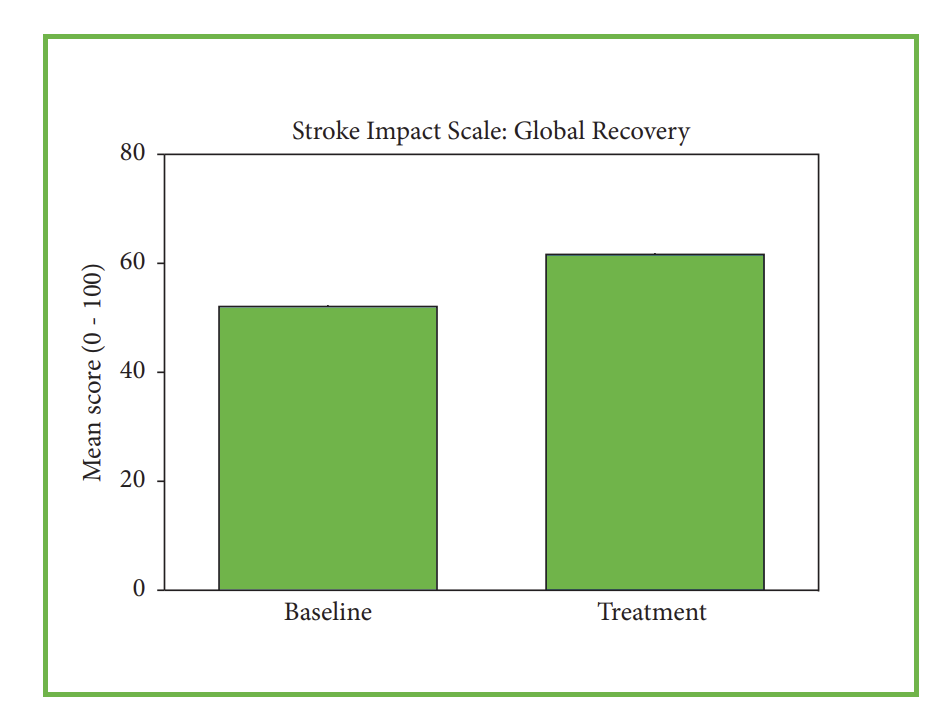 Stroke Support at TruMed
Hyperbaric Oxygen & IV Therapy in Edmonton
Our Naturopaths have a special focus in Advanced Natural Medicine
Contact us for a free Stroke consultation

Call 780 757 8378 and book your complimentary consult

Let's see how TruMed can help you
Where Ninety patients (with post Stroke depression) who suffered a Stroke approximately one month prior - 20, 35 minute sessions at a pressure of 2.0 ATA.
The effectiveness of combined Hyperbaric Oxygen Therapy with an anti-depressant was higher (in particular, higher rate of cure) than the other two groups.
Good study further supporting multi-modal Stroke Treatment approaches similar to what we suggest at our Edmonton clinic.
Select Stroke Hyperbaric Studies

Holbach & Wassman (1979)

131 patients - 1. 5 ATA, 1 h/day
Improvement in 80% of acute and 43% of chronic cases

Kapp (1981)

22 patients - 1.5 ATA, 40 min, 14 days

10 patients improved during HBOT

Nagakawa et al. (1982)

22 patients, 2 ATA, 1 h/day, 12 treatments


Excellent recovery in 6, 7 moderate, slight in 6

Jia et al. (1986)

104 patients, 2.5 ATA, 2 40 min
sessions, 30–50 treatments

Recovery in 33 patients, improvement in 67 cases

Hao & Yu (1987)

978, 798 were Stroke patients, 20–30 sessions but pressure not given

Improvement in 82.3 % of cases

Sugiyama & Kamiyama (1987)

142 patients, 2 ATA for 75 min, 20 sessions

Very good results in 15 %, moderate in 33%
Two Classic Stroke Treatment Studies:
Where 79 patients who suffered a Stroke between 5 months and 9 years prior - 20, 60 minute sessions between pressures of 1.5 - 2.0 ATA.
65% reported an improvement in the quality of life.

This data is encouraging because of the benefit in Stroke up to 9 years after the original injury.
Similarly, 1.5-2.0 ATA is used for treatment of brain injury such as Stroke at our Edmonton clinic.
The Klausenbach Study (1987 - 1989)
Where 50 patients who suffered a Stroke between 3 weeks and 5 years prior - approximately 30, 45 minute sessions at a pressure of 1.5 ATA often with physical therapy.
All of the 50 patients showed positive improvement especially with spasticity.
At 1-year follow-up, patients continued to maintain the improvement.
It's encouraging to see that 45 minute treatments for Stroke also have benefits.
The Klausenbach Study

Mental function

35 patients

86% improved

Gait

24 patients

41% improved

Motor power

50 patients

50% improved

Spasticity

21 patients

21% improved

Speech impairment

8 patients

2% improved
IV Therapy

Our general approach would be to provide nourishment to help treat brain injury both orally and intravenously.
Patients with Strokes have been reported to have low levels of magnesium - so IV Magnesium is always included in our IV protocols.
IV Phospholipids and IV B-Vitamins with supportive nutrients would be key treatments to include alongside Hyperbaric Treatment of Stroke.
Preliminary Data suggests that NAD+ can enhance recovery in Stroke: increased number of neural Progenitor cells, improved neural functional recovery, increased survival rate.
Therefore, IV NAD+ is a central therapy we consider for the treatment of Stroke at our Edmonton clinic.
Concluding thoughts:
Overall, the data in chronic Stroke appears extremely encouraging with publications on hundreds of patients with substantial change after Hyperbaric Oxygen Treatment.
We believe based on this data Hyperbaric oxygen can be of extreme benefit for treatment of chronic Stroke.
Synergy is thought to exist between Hyperbaric Oxygen and interventions such as IV Therapy which we focus on for Stroke treatment our Edmonton clinic.
Curious?


Get in touch




(780) 757-8378