Alternative Treatment Clinic in Edmonton
Stroke, TBI, Concussion, MS & Lyme
TruMed Clinic offers Edmonton Modern Alternative Treatments
We'll cover the research for Stroke, TBI, Concussion, Lyme & MS with HBOT.
This review page is for informational purposes only.
Data exists with regards to HBO and a range of health conditions.
In particular, Stroke, MS, TBI and Lyme Disease are well supported.
Each area discussed has its own, larger section.
Stroke
An ischemic stroke occurs when there is a blockage to an artery to the brain.
Consequently the transport of oxygen and glucose causes subsequent neurological dysfunction that lasts longer than 24 hours.
Up to one third of Stroke survivors have residual disability.
Select Hyperbaric Studies in Stroke:



Standard treatments to improve brain repair after Stroke are severely lacking.
Substantial data exists demonstrating an appreciable, robust and durable effect of Hyperbaric Oxygen Therapy for use in chronic Stroke patients.
A wealth of recent data as well as classic data from the 1970s and 1980s strongly supports the use of HBO in Stroke.
Newer Stroke Treatment Hyperbaric Studies
Efrati (2013) - Significantly improved neurological function and life quality in Stroke patients following a course of Hyperbaric treatment (40 sessions, 90 minutes per session).
We typically suggest blocks of 40 treatments for Stroke at our Edmonton clinic similar to Efrati (2013)
Schiavo (2020) - Significant improvement in multiple motor function tests and Stroke Impact Scale testing following Hyperbaric Treatment (40 sessions, 90 minutes per session).
We historically would suggest 60 minute treatment sessions however, due to studies like Schiavo (2020) and Efrati (2013) we now consider 90 minute treatments.
Select Classic Stroke Treatment Studies

Holbach (1979)

131 patients - 60 minutes

1.5ATA




43% of chronic cases improved

Nagakawa (1982)

22 patients - 60 minutes




12 treatments




Excellent recovery in 6 patients

Hao (1987)

798 patients




20–30 treatments

Improvement in 82.3 % of cases
Jain (1989) - "Klausenbach Study" where all 50 chronic Stroke patients showed positive improvement following Hyperbaric Treatment (30 sessions, 45 minutes per session).
Although newer Stroke treatment data suggests utility from using 90 minute treatments, at our Edmonton clinic we consider shorter treatment sessions also to be useful from older data.
Klausenbach Study

Mental function

35 patients

86% improved

Gait

24 patients

41% improved

Motor power

50 patients

50% improved
IV Treatment for Stroke:
Our clinic in Edmonton has a special interest in IV Therapy treatments.
Some emerging data implies utility behind IV Therapy for treatment of Stroke.
Administration of NAD+ appears to be effective for ameliorating ischemic brain damage in animal models.

Our Edmonton office works with IV NAD+ for treatment of brain injuries including Stroke.
Our general IV approach would be to provide nourishment to the brain in addition to NAD+.
IV Phospholipids, Glutathione and B-Vitamins with Glutathione support nutrients would be key treatments, typically done 1-3 times weekly pre or post hyperbaric treatment.
For more information on Hyperbaric treatment of Stroke click here.
MS
Initially, HBO therapy was shown to ameliorate symptoms in Experimental Allergic Encephalomyelitis (EAE) the animal model of multiple sclerosis.
Stem Cells release from Hyperbaric treatment is one mechanism that can contribute to the repair of areas of damage.

With regards to the course of disease Pallota (1986) followed 22 MS patients after they had an initial course of 20 HBO treatments.
11 patients had continued treatment every 3 weeks. These patients were followed over 8 years.
The frequency of relapses decreased dramatically in the long term treatment group.
UK MS Data
In the United Kingdom "The MS National Therapy Centres" installed Hyperbaric facilities across the UK and has treated over 25,000 MS patients

The cases of 703 MS patients who were followed in detail has been published.
Five daily treatments of 1 hour were given at 1.25 or 1.5 ATA.
The pressure was raised in weekly increments of 0.25 ATA until a response was obtained or five treatments at 2.0 ATA had no effect
If two or more symptoms improved, a course of 20 treatments in 4 weeks was completed at the "best" pressure.
After twenty treatments, 70 % of patients obtained relief of two or more symptoms.
An analysis suggested that one treatment every 2 weeks was required to retard the progression of relapsing/remitting state.
Once weekly was even more effective looking at data of patients after 14 years.
Improvement after 20 treatments
| | | |
| --- | --- | --- |
| Walking | 638 patients | 77% improved |
| Fatigue | 567 patients | 70% improved |
| Bladder | 523 patients | 68% improved |
| Balance | 562 patients | 59% improved |
IV Treatment can be helpful for our Edmonton MS patients with regards to energy, mood, spasticity, acute inflammation and in some cases walking.

IV Glutathione is our best option for acute inflammation.
NAD+ IV is a newer promising option for energy and brain fog in MS but is thought to be helpful for preventing neurodegeneration in chronic MS.
For more information on Hyperbaric treatment of MS click here.
TBI
Up to 90% of the Traumatic Brain Injuries are classified as mild TBI (mTBI) or concussion.
Post concussion syndrome (PCS) is a set of symptoms in most mTBI patients which includes headache, dizziness, psychiatric symptoms, and cognitive impairment.
These symptoms may continue for weeks or months, and last for over six months in 25%.
Increased tissue oxygenation, reduced inflammation, decreased apoptosis and increased blood vessel formation are all suggested mechanisms by which Hyperbaric Oxygen can help in TBI.
Harch(2012) gave Hyperbaric Oxygen to 16 war veterans with blast-induced TBI.
40 HBO sessions (1.5 ATA for 1 hour) were given in 30 days
Twelve of 15 subjects (80%) reported improvement in a majority of their symptoms on their prioritized symptom list after HBOT.
Harch TBI results

Cognition

93% of patients improved

14/15 patients

Short Term Memory

92% of patients improved




11/12 patients

Headache

87% of patients improved

13/15 patients
Boussi-Gross (2013) conducted trial of HBOT on 56 mTBI patients up to 5 years after injury.
40 HBO sessions (1.5 ATA for 1 hour) were given in 30 days.
A significant improvement was observed in all cognitive measures: Information Processing Speed, Attention, Memory, and Executive Functions.
SPECT scans showed HBOT led to reactivation of neuronal activity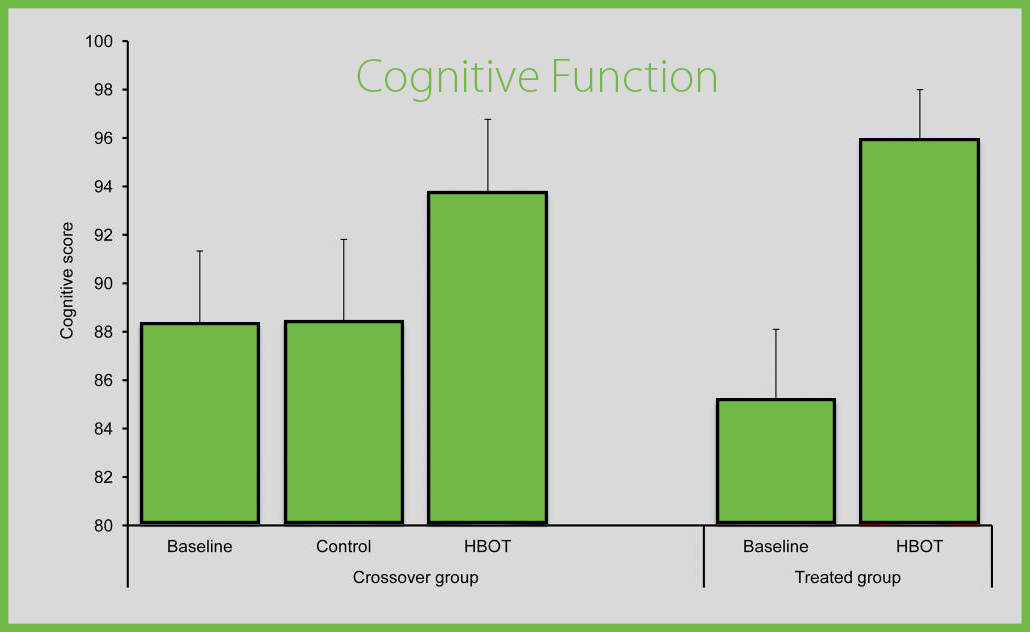 Hyperbaric
& mTBI
Anderson Standard HBOT + IV Head Trauma Protocol:
IV three-part formula
• Vitamins + Amino Acids
• 1 - 3 grams Glutathione
• Lipoic Acid Complex IV
• +/-IV Phospholipids
20 - 60 HBO Treatments
• 1.5 - 2.0 ATA pressure
• 60 - 90 minutes
We've had a reasonable amount of success in mTBI using a Vitamin, Mineral IV Formula prior to 2-4 grams of Glutathione.
For more information on Hyperbaric treatment of TBI click here.
Lyme Disease
Lyme disease, is a bacterial infection caused by Borrelia burgdorferi from infected ticks.
Borrelia species can infect any tissue or organ system but most commonly we see neurological issues, cardiac and joint problems.
Hyperbaric oxygen is thought to have the dual role of being inhibitory towards bacteria but at the same time restorative to damaged body systems especially the nervous system.
Chronic Lyme Symptoms:
Fatigue

Dizziness or vertigo

Memory loss or cognitive impairment

Sleep disturbances

Numbness or tingling of extremities

Sensory distortion of the skin

and many others
The famous "Texas A&M University" program in the early 1990s treated Chronic Lyme Disease patients with up to 40, 60 minute 2.36 ATA HBO sessions.
Improvement or resolution of Chronic Lyme symptoms was seen in 37/38 patients within 3 weeks of completing treatment.
Effects were sustained in approximately 70% of those patients for up to 6 years.
We work with IV Therapy for Lyme patients: IV Alpha Lipoic Acid, IV Glutathione and IV Phospholipids are often "stacked."
Alpha Lipoic Acid and Glutathione can deal with inflammation induced damage of cell membranes, mitochondria, and nerves.
IV Therapy with Phospholipids, can be helpful for mitochondrial restoration and neuronal restoration.
For more information on Hyperbaric treatment of Lyme Disease click here.
Busted Brain?


We can help




(780) 757-8378